The History of Fayerweatherhouse

THE ORIGINAL FAYERWEATHERS

The story of the Fayerweather Family begins with George, a slave of the Reverend Samuel Fayerweather, minister of St.Paul's Episcopal Church in Wickford. Around 1770 George gained his freedom and adopted, as was customary, his former master's surname.
One of his descendants, also named George Fayerweather, married a Native American woman and became a blacksmith in the village of Kingston, then called Little Rest (today a part of the Town of South Kingstown).
In 1820 he built Fayerweather House as a home for his family, which eventually included 12 children.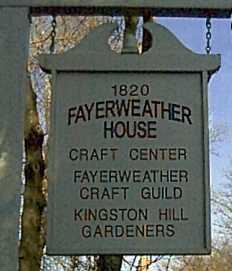 THE HOUSE

The house is a two-story wooden building constructed around a massive stone chimney. The three rooms on the first floor are open to the public. Each of them has a fireplace and corner beams. The Keeping Room is dominated by huge granite fireplace with a Dutch oven. The floor is covered with 18-inch-wide floor boards. There is also an exhibit with an old blacksmith's bill and some historical photographs. On another wall hangs the Bicentennial Quilt, stitched in 1976 by the founding members of the Fayerweather Craft Guild. Its 30 panels show local landmarks.
All three rooms are now used by the Craft Guild to exhibit crafts and offer them for sale.
Fayerweather House is surrounded by almost an acre of park-like grounds featuring majestic trees, old-fashioned shrubbery, and garden plantings typical of the period. The garden with its beautiful vistas is sometimes used as a setting for wedding pictures. It is maintained by the Kingston Hill Gardeners.
Next to the house is the well (not functional any more). About another 10 yards to the east stood the blacksmith shop, of which only some foundation stones and the base of the forge remain today.


THE NEXT GENERATION

George Fayerweather's son Solomon succeeded him as the village blacksmith. He was also sexton of the Kingston Congregational Church. A photo of Solomon is exhibited in the Keeping Room.
One of Solomon's brothers married Hannah Rodman, a descendant of Indian Sachem Ninigret I.
Another brother, George, married Sarah Harris of Norwich. She is noteworthy because of her courage in being the first African American woman attending Miss Prudence Crandall's School for (white) Females in Canterbury, CT. Miss Crandall's revolutionary idea to educate black and white women together caused an uproar in the community and cost her the support of her white students. So she then decided to open a school for black women only, which operated very successfully for about a year. Then, community opposition and the Connecticut Black Law of 1833 closed her forward-looking school. John F.Kennedy's book "Profiles in Courage" immortalizes the story.
Prudence Crandall (by then Mrs.Calvin Philleo) kept in touch with her first African American student.
The letters she wrote to Sarah Harris Fayerweather and her daughters between 1869 and 1881 were found when Fayerweather House was restored in 1965. They are now kept in "Special Collections" at the Univ.of Rhode Island Library
Sarah died in 1878 and is buried in Fernwood Cemetery (ca. one mile west of Kingston Village on Rte 138). Her headstone reads: "Her's (sic) was a living example of obedience to faith, devotion to her children and a loving, tender interest in all."


THE CRAFT GUILD

The last private owners of Fayerweather House, Mr.Perry and his wife Mabel, who was a granddaughter of Sarah, had died by 1962, and the house was deteriorating rapidly. Through the efforts of the Kingston Improvement Association, which now owns the property, the historic building was authentically restored and opened to the public in 1966.
At the same time the Fayerweather Craft Guild was formed, and charged with the task of maintaining the house as a village craft center and facilitating public access. Recently, the Guild has also given to the community by providing ten scholarships for local children to attend the summer programs of the South Kingstown Recreation Department.

Kingston, situated adjacent to the University of Rhode Island, has preserved its 18th century village character. Besides Fayerweather House there are other historic buildings of note: Kingston Congregational Church (1820), Old Courthouse (1775 and 1876, now the Kingston Free Library), Washington County Jail (now a museum and home of the Pettaquamscutt Historical Society), Hagadorn House (1775), Helme House (now a gallery and home of the South County Art Association), Tavern Hall Club (1738), Kingston Inn (1757), and others. Some of them are memorialized on the Bicentennial Quilt.

(Compiled from various sources)